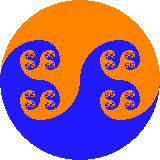 ---
Students and Collaborators
Future
If you are interested in working with me, send me an email at cgg

unam.mx, attaching CV, research interests, and recent publications (if any). You can also check the potential research projects you might like to work in. UNAM offers postdoctoral scholarships for national and international citizens who defended their PhD within the previous three years and are less than 36 years old. Calls are twice per year, Spanish is desirable but not a requirement.
The MSc and PhD in Computer Sciences and Engineering also comes with a scholarship from CONACyT's excellence program. This graduate program is also available for international students, but Spanish is a requirement (as well as English).
Sabbatical and exchange visits are also possible.
Current
Roberto Gutiérrez García. MSc in Computer Science, UNAM, Mexico (expected 2012).
Past
Dr. Christopher P. Marriott. Postdoctoral Fellow, UNAM, Mexico (2011). Project: Polyethism and Self-Organizing Systems.
Alex Arriaga. BEng in Computer Science, Benemérita Universidad Autónoma de Puebla, Mexico (2010-2011). Thesis: "Artífice: Generador de Ciudades Virtuales mediante Autómatas Celulares: Un enfoque desde los Sistemas Complejos y Auto-organizantes"
Rodrigo Poblanno-Balp. MSc in Computer Science, UNAM, Mexico (2009-2011). Thesis: Coupled Random Boolean Networks and Their Criticality.
Seung Bae Cools. BSc in Computer Science, VUB, Belgium (2005-2006). Thesis: A realistic simulation for self-organizing traffic lights.
Thesis committee
Héctor Alonso Guzmán Gutiérrez. MSc in Computer Science, UNAM, Mexico (2011).
Román A. Mora Gutiérrez. "Metaheurística para el problema de alineamiento multiple de secuencias". Doctorate in Engineering, UNAM. (2009-2012).
Raúl Ruán Ortega. "Dinamización de un sistema sectorial de innovación bajo el enfoque de sistemas complejos: Una aplicación a la industria automotriz en Puebla". Doctorate in Management, UNAM. (2009-2012).
José Antonio Villarreal Martínez. BSc in Computer Science, UNAM, Mexico (2011). Thesis: "Algoritmo basado en agentes para la simulación computacional de un modelo simple de morfogénesis."
Miriam Patricia Cienfuentes. "Modelo de sistema complejo del fenómeno de la salud: más allá de los determinantes de la salud". Doctorate in Public Health, Universidad Nacional de Colombia, Bogotá. 2008.
---